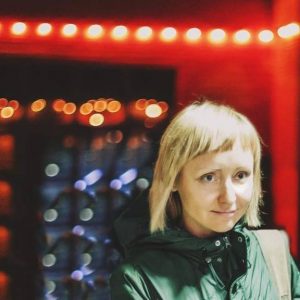 Education:
National University "Lviv Polytechnic", Regional Research Institute of the National Academy of Sciences in Ukraine.
MoMA online courses "In the Studio: Postwar Abstract Paintings" and "Modern Art and Ideas".
Summer Engraving School in Lviv National Academy of Arts.
School of Contemporary art at the Modern Art Research Institute ( 2016-2017).
I am a scientist, phD and I use the opportunity to explore various phenomena with an artistic techniques and practices, through Art.
First of all, I am interested in fluidity of time, fragmentary human memory and influence in different media.
Live and work in Lviv, Ukraine.
2015 – Still lifes and plein air, Mediateka, Lviv
2016 – Angels for Charity, Communa, Lviv
2016 – Watercolor portraits and illustrations , Art studio, Lviv
2015-2016 – Sketch nudity, Ron, Lviv
2017 – Reality as a mistake, Modern Art Research Institute, Kyiv
2017 – Warsztaty Marty Bosowskoji, Dzyga, Lviv
2017 – Linocut and Monotype, Pory Roku, Lviv
2017 – FetishX0, Akt, Kyiv
2018 – In the Studio: Art by MoMA's Online Learning Community, MoMA, New York
2018 – Exposure: Opening Season, Akt, Kyiv
2018 – Carbonarium International Performance Art festival in Kyiv
2018 – Biennale of Trust, Lem Station, Lviv
2019 – Personal/Impersonal, Gallery101, Lviv
2019 – Textura TechnoSynod, Kotelnja, Lviv
2019 – Paradjanov Festival, Lviv
2019 – Performance School, Days of performance art, Lviv
2020 – Disconnection group show, Flaco Galeria , A Coruña, España
2020 – City vs Quarantine, Gunpowder Tower, Lviv